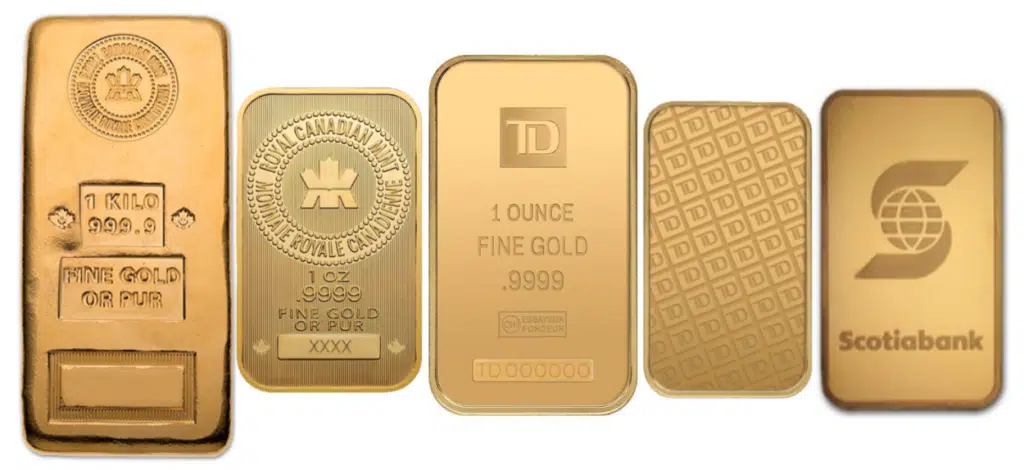 Buy Gold Bars, Coins & Bullion
WELCOME!
Whether you are a collector or an investor interested in buying a large amount of Gold Bars & Coins, our team is here to help with your investment.
Please call ahead to ensure product availability 1-855-852-GOLD (4653)
About investing in Gold Bullion
What is Gold Bullion?
In Canada, fine .999+ gold bullion is considered an investment grade product and is not subject to sales tax; you can invest in gold bullion through your RRSP and benefit from the tax benefits. Only gold coins, however, are designed for circulation and are considered legal tender.
How to purchase Gold Bullion?
Like all other investments, investing in Gold Bullion should be kept simple. One of the best ways to purchase Gold Bullion is to select the product in person from a local bullion dealer or a store in your area.
Who invests in Gold Bullion?
Gold bullion is a general investment product that has been around for hundreds of years—mainly purchased by the general public, business owners, hedge fund managers, Banks & Governments. Gold bullion is often considered a long-term investment product.
What are the most popular investment products?
The most popular product in Canada is the Canadian Gold Maple Leaf Coin, a fine Gold investment-grade product minted by Royal Canadian Mint. In addition, Gold 1,5 & 10-ounce bars are also popular. A Gold Kilo bar is also a top-rated investment-grade product manufactured by the Royal Canadian Mint.
What is considered an investment-grade product?
Any Gold product 99.9 percent or higher in purity.
What are casted gold bars & bullion?
When gold is melted and made into bullion, the bullion is created by simply pouring the molten metal into a mould. The resultant bar has a lesser polish and is somewhat more rounded than minted or extruded bullion. The semi-cooled gold bars are branded with the requisite brand, weight, and purity indications.
What are minted gold bars & bullion?
Minted gold bullion is struck using high-pressure dies, resulting in an equal, high-quality finish on both sides. The minted gold bullion can be in the form of a bar or a coin and is frequently separately wrapped in a plastic cover.
What is the cheapest gold bullion to purchase?
Cast gold bullion is often less expensive and has the same purity and weight. Minted stack better than poured bars. These bars are ideal for people who are just interested in the precious metal as an investment and are indifferent about beauty or international tradability.
What type of gold bullion should I purchase?
Minted gold bullion is normally more expensive, but it is frequently manufactured by COMEX or LBMA approved refineries and hence has worldwide recognition if you transport your gold abroad. If look is essential, these will be more appealing than cast bars and will typically come with a protective sleeve.
Should I buy gold coins?
Gold coins are generally more expensive, but they offer the most flexibility in terms of being recognized by any dealer anywhere in the world, having a face value that may be useful for tax or import restrictions if taken overseas, and some coming in limited runs that may realize a 'collectible' premium in the future.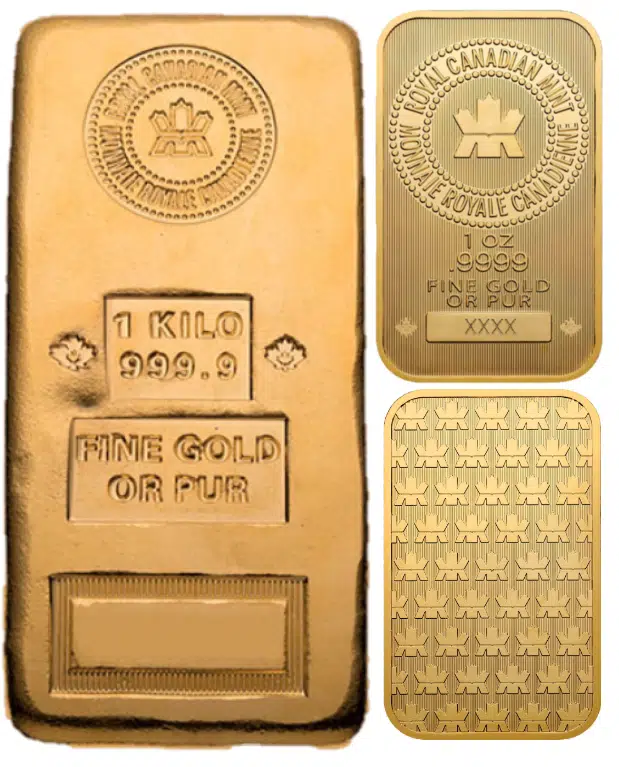 How long should I hold on to my gold bullion?
Many investors hold on to the gold bullion for long terms. Like any other investment it is ideal to hold on to your gold bullion until you see some profit.
When is a good time to invest in gold bullion?
When investing in gold bullion timing plays a key factor. It is best to buy gold bullion at the lowest price possible. Consider looking at gold price charts and the historical gold price data to determine a good time to buy gold. Here is a link to our historical gold price chart.
https://amgoldbuyers.ca/home/charts-and-news/
Best way to store gold bars, coins & bullion?
The best practice to consider would be storing your gold bullion at a bank locker or a safety deposit box. Depending on your investment you might require a medium to large size safety deposit box. Keep your bullion gold bullion in its original packaging. For an added layer of protection, a bubble wrap envelope is a great way to keep your gold bullion safe and away from any possible damage.
Select from a wide verity of products
available to choose from in-store
Quotation is provided based
on the current market price
Cash, Cheque, Wire or Bank Draft. Any of these are accepted.
FREQUENTLY ASKED QUESTIONS
When do I receive my Bullion?
Ali Khan
2021-08-18T14:41:04-04:00
It depends on the payment method you select – usually the same day or within five business days.